Monache Meadows
Inyo National Forest
Oh, the wonderful and beautiful Sierra Nevada Mountain Range. I just love it here, who wouldn't? Home to Yosemite, Sequoia and King's Canyon National Parks, this general area is one of the most beautiful places to visit in California. If you are traveling from the greater Los Angeles area, this is one of the closer and most southern points of the Sierra's, which means a bit less driving then to the northern other parts, like Yosemite or Mammoth Lakes. Don't worry though, you wont sacrifice beauty by traveling less in this case.
This adventure and location does require a 4-wheel drive vehicle and a vehicle with a short wheel base. A large truck with 4-wheel drive might struggle a bit on this trail, as some of it is really narrow and some tight turns. Ideally, a modified Jeep with a lift or similar vehicle. I have been out here with multiple Jeeps, a 4-Runner and a Toyota Tundra, non of which experienced any issues. Some off-road experience is required for this trail and would always be best recommended to go out with at least another vehicle.
The trail and main road to access Monache is closed during the Winter months and sometimes longer, depending on the years snowfall. Be sure to check with the local Blackrock Ranger Station or the Kennedy Meadows Ranger Station for closure status. https://www.fs.usda.gov/recarea/inyo/recarea/?recid=81037 My first trip up here, the roads were supposed to have been closed and the gates locked, but for some reason the access gate was wide open. We had no idea this area or the roads were closed during part of the year until after we got back. The roads were icy and very treacherous, and a big reason why the roads are closed, the pass during bad weather is no joke.
Quick side story on being safe and cautious along this stretch, or any area for that matter with icy conditions or snow. On our way back home from my first trip here we noticed some fresh tire tracks that veered off a steep cliff. My buddy JR and I pulled over to asses the situation, as we knew those tracks weren't there on our way up a few days prior. We walked to edge of the cliff and looked down below, way down below. We saw a small yellow vehicle, or what was left of it. Too far down to even tell what type, several hundred feet at least, we knew this could be a really bad scene. We hiked down the steep cliff wall and approached the vehicle, anticipating the worst but praying for the best. There was literally nothing left of the Nissan Exterra. It was pinned up against a large pine tree, the last tree on another ridge that dropped several hundred feet further down. Luckily no one was in the vehicle.
We did a search of the area, no one to be found. In the search, we came across an address on a scattered registration card that wasn't too far from our location and on our way back home. We decided to collect some of the valuable items we found scattered around and stop by the address on the registration card. We really didn't know what to expect or what the outcome was of the passengers, but new these things were valuable and someone would be missing them. We made our way to the little town on the registration card and knocked on the door. Turns out it was an elderly man, in his 70's that was the driver of the SUV. He and his buddy were heading out for a little weekend getaway and ended up losing control and veering off the cliff. He said they rolled about 10 full times before impacting the tree they were pinned up against. Got out of the SUV and hiked all the way back to a little town, a real good distance away. The scene of the wreck and mangled condition of the SUV flashed trough my head. I was shocked that both of them walked away from this incident without a scratch on them. Gave me the chills. Just so lucky and blessed. Prime example of why closures, rules and regulations exist.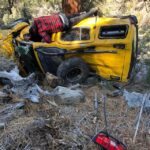 I know we had a really lucky experience being able to be here during this time of year. The scenery and trail was beautiful with all the snow, we were literally the only people out there and had the entire trail to ourselves. It was blissful, but blistering cold. Temperatures out here can get VERY chilly, so pack accordingly for sub-freezing temperatures at night. Even during the warmer months, it gets cold at sundown. Late Spring and Summer are the best weather times to visit, otherwise you'll be heating up rocks in the campfire to put in the tent to stay warm like we did. It was a lifesaver though and fought off the hypothermia. Getting to the trailhead for Monache Meadows was challenging for me the first time around. I had a lot of mixed, jumbled and inaccurate information which made tracking down this location difficult and frustrating. I'll hopefully make this much simpler for you with some helpful details and GPS waypoints
I will start off by providing the GPS coordinates to the trail head, I really wish I had these coordinates back then. This will get you to the trailhead of Monache Meadows 36.16247, -118.23297. Once you get to this point, the trail is fairy easy to navigate and and stay on course. This is really beautiful backcountry and has a lot of diverse terrain. Meadows, mountains, forests, valleys, rivers, streams and rolling hills. Exploring in this area was a really fun, exciting and an adventurous experience. Where you go from here is really up to you, the opportunities are endless.
I have been out here 4 times and never hesitate at an opportunity to go back and visit. I have camped at many locations while out here and I always try to find a neat, new spot to set up camp. I will share a few of my favorites along with the GPS coordinates to their locations. The first spot is one of my favorites, but also one of the more popular locations to set up camp. Your best bet is locking this place down during a weekday if possible, otherwise it might be taken. It is nestled in a little forested area with amazing views of the meadow and neighboring mountain range. There is plenty of room for several tents and the camp area is very spacious and wide open. There is even a little outhouse setup on the southern edge of the campsite. There is also a pretty large fire pit that someone has built for a nice, warm fire in the evening. It's quiet and the stars are beautiful, a truly refreshing disconnection from the daily hustle and bustle. The best part is there is no phone service or WIFI, sometimes less is more. During the day there are many roads and Jeep trails to explore, hiking trails along with fishing from the streams and a dam to the north.
Monache Meadows is surrounded by the Golden Trout Wilderness and fisherman come to fish for the California Golden Trout. I have fished a few times up here, but haven't invested much time or really dedicated myself to finding the good fishing spots. If you desire the fishing experience, I will leave that to you to explore and seek out the hot spots. As I will say at the end of every post, please do what you can to keep these places pristine and help make them better. Be respectful, hold others accountable and always leave no trace. If you need more info on best outdoor practices or the 7 Leave No Trace Principals, visit www.LNT.org
Campsite A (my personal favorite)  36.19978, -118.17586
Campsite B (another great option)  36.20749, -118.17641
OLANCHA WEATHER