The Best of Joshua Tree
My first memory of JT was when I was 6. My Dad told me we were going to look for Dinosaur fossils. I thought I was Indians Jones' mini sidekick archeologist. I found some bones and told myself it was from a T-Rex, pretty sure now it was a Jack Rabbit. I'm always connected to that nostalgia of my first adventure to Joshua Tree, I even catch myself now browsing the desert dirt for "dinosaur" bones. Don't let your only memory of Joshua Tree be that you've just seen pictures. It's really an out of this world place. 
There is so much to do and so much beauty to see in Joshua Tree. Please, do yourself a favor and dedicate a full weekend to this adventure, you will not be disappointed. This write-up will be focused on several of my favorite locations and interest points worth experiencing. including Eagle Cliff Mine, a rarely visited and very special historic site. My love for Joshua Tree increased dramatically after visiting this place and connecting with it's rustic history. When we understand a place's past, we have a better appreciation of it's present. Reaching Eagle Cliff Mine and it's preservation will be the focal point here. However, there are a handful of other neat spinoff adventures and points of interest close by and definitely worth checking out during your visit.  You can really get creative and choose some different combinations. For example, there are several designated camp sites in Joshua tree. You could head in Friday, set up camp and do 3 or 4 different hikes or points of interest during your stay. Or if you feel like backpacking, you can head off to Eagle Cliff mine, camp in the backcountry, head back and try another location. Either way, your weekend is destined to be memorable and adventurous. I will outline more than enough to keep you busy on this trip.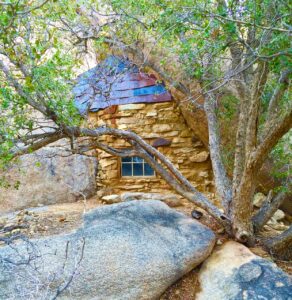 Let's talk first about Eagle Cliff Mine. As with many of the mines in Joshua Tree, very few details are known about it's history or origin. The earliest recorded date of information on the mine or mining homestead is around 1895. Several mines were established in the area, which are no longer accessible. However, the homestead that was creatively built into the boulders on the cliff, remains in fantastic condition. You will see this homestead just as it existed in the late 1800's, virtually untouched by modern times. There are many old relics and original features around this homestead. It is illegal to remove or take ANY artifact or historic item from these areas. Take only memories, leave only footprints. Please take great care of this special place. The trailhead for this adventure is located at the Pine City backcountry board, Remember, this is the Back Country, meaning there are very limited resources in this area of the park and you are pretty much on your own. You won't find bathrooms, resources or very many people coming across your path. Plan ahead, be prepared, know the weather & always take a GPS/SOS device if you have one. The backcountry board is also a place where you register your outing in these areas. If you plan on staying overnight, you would indicate on the board where you plan on going and how long you plan on staying. This way if a park ranger sees your car parked for several days, they can determine if you might need help or assistance. From the parking lot of trailhead, you will head out following the signs that say Queen Mine. This will be another mining area that you can explore quickly and easily, not much to this mine. In a very short walk, you will come up to a sign with a few paragraphs about the Queen Mine. Directly across the canyon you will see parts of the mine, you will want to walk down into the canyon and back up the opposite side to the Queen Mine location. I must warn you ahead of time, parts of this trail can be somewhat difficult to follow. People have set-up numerous cairns, small rock stacks, along the way to help identify the trail. Be on the lookout for these as the hike continues.
After reaching and checking out the Queen Mine, continue heading East on the trail. The trail should still be fairly easy to follow at this point. After roughly 1/2 mile you will be descending down into a wash area with a rocky ridge before you, it will seem as though you only have an option of right or left. (just over that ridge is where the Eagle Mine is located) At this point you will want to head to the right, uphill into the wash area (south). This is where the trail can sometimes be tough to follow, but as long as you're headed up the wash, you will eventually reconnect with the trail. After another 1/2 mile or so, you will come to the steepest part of this trail and a few switchbacks to get up to the cliff. You will see a few hidden mine tunnels along the way, some are covered by brush and trees. You know you're close when the trail start opening up to somewhat of a plateau or clearing. The mining homestead is on the right side, somewhat close to the cliff edge. You will notice the cabin is mostly made out of a large boulder, cut out and roofed with old timber and tin. Nothing in this cabin is to be disturbed or removed. You don't need any souvenirs. Leave it the way you found it.  If someone from your group thinks otherwise, a good punch to the neck will do the trick. Spend some time exploring the cabin area and getting an idea of what it was like living here during these mining days. it's also a great opportunity for a quick lunch. Make sure to also get some pictures on the cliff bluff, gorgeous views of the canyon below. 
Here's a few pictures of the inside of the homestead. I was very humbled by its simplicity and lack of amenities, do we really have it that bad these days?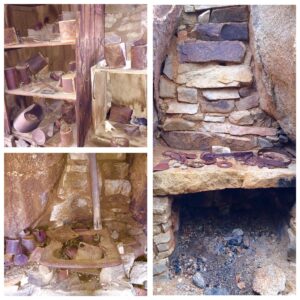 If you planned on this just being a day hike, simply follow your same way out and enjoy the rest of your hike back. At the same parking lot (trailhead) where you started, there is also another trail that will take you to Pine City. It's a quick and easy hike that you will also find enjoyable. That wraps up the day hike portion of just this trail. But wait, there's more! If you came out with the idea of camping in this part of the backcountry, you will have to do a little bit of exploring and recon to find a decent place to camp. There are some really great finds nestled within the boulder formations, but you have to earn them. There are no designated campsites in the backcountry but you are encouraged to select the most durable possible location. You must also camp at least 1 mile from any trailhead and 100 ft from any natural water source. Just below Eagle Cliff Mine, we found a decent camp location. It was surrounded by tall boulders, providing a great wind break, isolation and protection from the elements. It was almost like a little meadow, with soft ground and green grass. Several solid trees were  there, which allowed me string up my hammock. We enjoyed bouldering the surrounding rock formations and catching an epic sunrise from atop the boulders.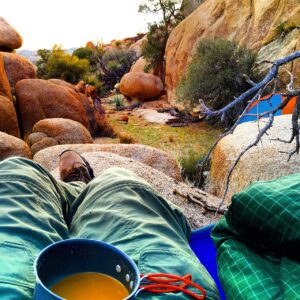 If you decide to camp in the back country, just remember there are no water sources and all your water must be carried in. This can limit the distance, duration and locations you can travel based on the added weight of carrying sufficient amounts water. Just make sure you plan accordingly, be prepared and take all precautions. Joshua Tree's backcountry is very peaceful and reveals the true beauty of desert landscapes. Because of it's isolation and dark evenings, it is also one the best places for star gazing at night. You can literally sit out for hours under these stars and be humbled by the vastness of space and how big our world really is. It always helps me put things into perspective and realize how much we stress about things that we should probably let go of. 
To fill out the rest of your weekend, if you planned on making this a weekend trip, I will include several other points of interest and potential campsites. First let's cover the camping. Aside from venturing into the backcountry, there are several designated campsites within Joshua Tree. Camping at these locations involves tent, trailer or RV camping. There are restrooms and campfires are allowed in the designated fire rings at each site. Some you will need reservations, some are first come first serve. On weekends from October to May, these sites do fill up rather quickly. Be sure to check availability ahead of time. Whichever campsite you decide, you will be able to easily make it to any of the trailheads or points of interest I've mentioned in this write-up within a quick drive. Here is a list of all campsites and some additional camping information provided by the National Park Service https://www.nps.gov/jotr/planyourvisit
Within the park, here are a few other destinations that I have seen and feel would be worth while to check out. 
Barker Dam Easy hike, 1.3 miles. Trailhead: 34.02703, -116.14678  Elevation: 4,262.One of the few places in Joshua Tree where you will see an abundance of water. Where there is water, there is usually wildlife. Be on the lookout for Big Horn Sheep and other native desert animals. 
Skull Rock Location: 33.99714, -116.05911 Elevation: 4,338 ft. This is an attraction you can just pull over and easily walk up to. It is right off the main road. You will likely see several other cars parked along the shoulder and you will know you are in the right place.
Cholla Cactus Garden 33.92474, -115.92921 Walk along side the large Cholla Cactus. Accessible right from the main road 
Geology Tour Road Location: 34.00600,-116.08497 Elevation: 4,433 ft This road is more designed for off-road vehicles. Although higher clearance 2WD should make it just fine. It is a 17.1 mile loop trail that offers scenic views and is good for any level of off-road ability. There are some neat places to stop and see along this trail.
 Lost Palms Oasis Trailhead: 33.73672, -115.81059 Elevation: 2,978 ft. Moderate hike, 7.1 miles. This trail will take you to an oasis of palm trees. This is the largest concentration of native Fan Palms in Joshua Tree. The trail offers fantastic scenic views, you will even catch a glimpse of the Salton Sea in the distance. The trail ends at the Oasis, which provides a natural water source for the local wildlife. Again, where there's water, there is usually life. This area, along with Barker Dam, are decent opportunities to see wildlife, including Big Horn Sheep. This area is also considered the backcountry of Joshua Tree, so camping is allowed if you choose to stay overnight. 
Joshua Tree has a lot to offer just in general. The park itself is quite large and an ample amount of trails and things to see. Even if it means camping at a designated campsite and just driving around the park exploring, it's a great weekend adventure. It's also a very popular spot for rock climbing enthusiasts and those looking to experience an incredible night sky.  So pick you're level of adventure and get out and explore Joshua Tree, it's likely it will become one of your favorite places to visit. Expect more to come on Joshua Tree, as every time I go, I always find new places to explore and hidden gems. As I will say at the end of every post, please do what you can to keep these places pristine and help make them better in any way we can. Be respectful, hold others accountable and always leave no trace. 
JOSHUA TREE WEATHER