Calico Ghost Town & Beyond
Mojave Desert
Who doesn't love exploring a good spooky ghost town? Calico is one of the few remaining original mining towns of the western United States. It's pristine preservation is thanks to the help of Mr. Walter Knott, founder of Knott's Berry Farm. Mr. Knott purchased and restored the land in 1951, later donating Calico to San Bernardino County. Nearly 127 years ago, the town of Calico was swarming with prospectors, all looking to strike it rich. It wasn't long before vast amounts of silver and borax were discovered within the rich mountains of the Calico region, $86 million in silver and $45 million in borax to be exact.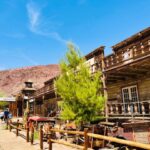 Calico was one of the largest and most lucrative mining towns in the state. Over 500 mines were opened in the area, all driving Calico's great wealth from 1881 to 1907. Some of these legendary mines included the Silver King, Oriental and Bismarck mines. In the early  1900's, as the price of silver dropped and plunged, so did the mining operations and town of Calico. Today the ghost town of Calico operates as a County Regional Park, fully alive and well. I have been to Calico on many occasions, both as a child and as an adult. I will say they were both great, just different in their own ways. As a kid I really enjoyed the attractions, my adult version really enjoyed the history. All around a very cool place to visit for the whole family.
There are many different gift stores and shopping options, restaurants and even a beer garden. Attractions include: Maggie Mine Tour, Calico Railroad, Museum, Mystery Shack, Gold Panning and cemetery. All neat things to do while you are there and can easily spend the entire day there. Based on Calico being located in the desert, it can get very hot during the day, bring plenty of sunscreen and water. I would be hesitant to venture here during the heat of summer, making this adventure ideal for Spring, Winter or Fall. Dogs are also  allowed on a leash. Here is the location info for Calico Ghost Town 36600 Ghost Town Road Yermo, CA 92398 or 34.947911, -116.864778.
I have written this adventure more as a day trip, but there is also camping located at the ghost town. The campground is located within the town, and offers full hookups for RV's. When I  recently visited, there were many off-road enthusiasts, from Jeeps to Razors, camping and enjoying the nearby trails and desert. When you enter the town, the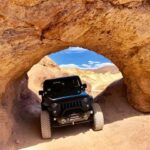 cemetery is to the left, campsites to the right and the town itself is straight ahead.
On a side note, if you are looking for a more secluded camping location, there is close-by canyon with more primitive camping areas and many nice locations to set up camp. The dirt road into this canyon is located just East, about a quarter mile from the town entrance of Calico. 34.93990, -116.85900. This canyon is called Odessa Canyon and is home to some of the most difficult off-road trails in the Calico area. Although these trails are rated difficult, you can still drive much of this  canyon without even a 4WD vehicle, its the trails that branch off  the main route that can get intensely challenging.
These trails are known as Odessa Canyon Train, Doran (loop) Scenic Route and Mule Canyon (easiest of them all). I won't be writing much about the specifics of these off-road trails, but if you're feeling really adventurous feel free to look them up. 4WD, high clearance and modifications are needed. They are all accessible from the entrance to Odessa Canyon.  Even if you are not feeling the off-road part, this is still a very beautiful place to camp, explore and hike.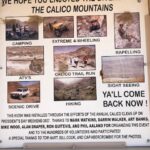 The hills and mountains in this area are multi-color, ranging from red, yellow and even a hint of turquoise. Absolutely amazing and almost feels like you are on another planet. Also, located just a little ways up the canyon on the left (still very accessible by 2WD) is where you will find the old Odessa Mine. 34.94492, -116.85797. Entering these mines is dangerous and do at your own risk. Be careful if you decide to enter, there are some VERY steep mine shafts that you can easily slip down, use the buddy system and use flashlights. I really love this whole area, it's beautiful and rich in early California history. Really makes you feel like you're part of the early West, when wagons and pick axes ruled this area. Keep your eyes peeled for silver nuggets, ya hear!  
CALICO WEATHER