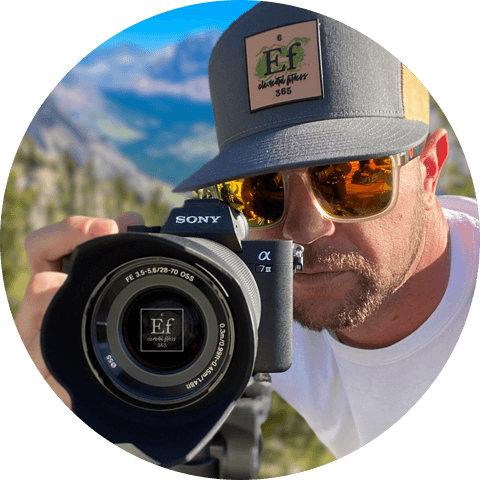 We all have a story, here's a chapter from ours…
On adventures we live, in nature we trust, with action we inspire. We are designed, built & branded for that active outdoor lifestyle. The rad adventures it brings with it and the positive impact we create along the way.
We are a purpose driven brand. We are not driven purely by profits, but rather passion. The mission and message behind Elemental Fitness (EF Outfit) is to help inspire an adventurous spirit while practicing mindful ethics along the journey. Making places better, adventuring responsibly and understanding the principals of Leave No Trace and our impact outdoors. In a simple, condensed version, "Wander the wild while keeping it well". It's become apparent today that far too many adventure seekers love the "wander" idea, but forget or are uneducated about the "wellness" part. Just go out on a local trail or a past favorite camp spot, you'll see what we mean. Many are excited to share and blog about these amazing, breathtaking places, but expectations of how and why to tread lightly seem to be missing in the message (for the most part). We believe more people should truly experience a deeper connection to the wilderness, but prioritizing its wellness is equally as important. More so today than ever. Nature and it's wellness is an important part of all our lives and we are committed and passionate about making a difference across all channels of our gear, products and message. Nature is us and we are nature. Nature is rad. We're here to help bring nature's sexy back, because she's one sexy mother…
The driving force behind our vision and cause is to provide increased awareness and financial funding to an environmental cause that aligns best with our core values. We are proud to partner with and have an ongoing contribution campaign with Leave No Trace, an organization dedicated to ongoing education of outdoor ethics and a heavy emphasis on protecting the wellness of our wilderness. Unfortunately, 9 out of 10 people in the outdoors are uninformed about their impacts and potential harm that can be caused while "enjoying" the outdoors. 10% of everything we do is contributed to Leave No Trace and the overall message of making places better than we find them. As we like to say, EF the trace. It's a nasty thing to leave behind.
Our enthusiasm, love and respect for nature runs deep here. Maybe deeper than most, but we've got some extra to share. We adventure hard, often and always leave places better than we found them, something we were taught as youngsters. I remember as a kid, making a game out of how many "trashy treasures" I could find before we broke camp and headed out. The game is still in progress and always looking for new players. We make it a point to not pass trash and pretend it's not our problem. Because it is our problem. We strive to always have a positive impact on places, people and our surrounding. We are welcoming and hopeful to have others accept the invite and do the same. Our brand is just as much about community as it is the products we deliver.
Behind the scenes our products and production partners are vetted. Unfortunately for us, we are perfectionists. Fortunately for you, we are perfectionists. Our products are high quality, comfortable, durable and tested in the elements prior to being released. We pay attention to detail and our customer experience is important to us. We source Local, veteran owned and made in the USA products whenever possible. We come from military families and supporting our service community is important to us. If by chance we find ourselves overseas, we do our due diligence to ensure responsible, ethical and sustainable practices are in place. This is a challenging process, but we stand firm here. It's important to us to always have the environment in mind, not just on a local level. Unfortunately there is no picture perfect solution, nor is anything perfect, but we take pride in doing our absolute best. We have no reservations about being transparent. All of our packaging material is recycled and backed by sustainable materials and processes as well. In an effort to reduce single use plastic material, we don't use any unnecessary plastic packaging, wrap or fillers. Call us "Basic", we're okay with it.
Our trademark logo and "Elemental Fitness" is symbolic and represents our vision. Living an active outdoor lifestyle encourages fitness and wellness on many levels. Physically, emotionally & spiritually. Stay fit and keep nature that way too. The 6 represents the various elements of wellness and the 365 is a reminder to balance them daily, connecting them to nature as often as possible. Our logo resembles an element on the periodic table, the only place you will find everything connected and together as one. There are many companies who may not take the time to share as much detail with their customer community, but we feel our story, purpose and message is just as important as our products.
Even if you don't purchase or experience any of our products, at the very least consider being an advocate of this message. Please help spread and inspire good vibes and good ethics while outdoors. Find your unique way to help spread wellness for the wilderness. Nature deserves it. We deserve it. Check out Leave No Trace Center
www.lnt.org
to follow, support, volunteer or donate.
We hope to inspire and cultivate a community of adventure & nature enthusiasts that are not only eager to explore the wild, but go the extra mile to ensure it's wellness and preservation.
Connecting more people to nature in a better way, one adventure at a time. We look forward to adventuring, having some EF'n fun and making a difference with you!
Welcome to EF Outfit.

Bradley Westwood
EF Outfit/Elemental Fitness