The Red Dunes of Deadvlei
Exploring the sands of the Namib Desert
Welcome to a journey through the oldest desert on Planet Earth, the dry, desolate desert of the Namib. But desolate doesn't mean dull, probably one of the most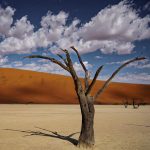 beautifully rich places I've explored. This was a small part of our 28-day Africa road trip through Namibia & Botswana. The trip was packed with too much adventure for one post, so I plan on splitting it up over multiple sections. If Africa is on your bucket list, this is absolutely a place you want to add to your itinerary. Also, throughout these Africa posts, I will be sharing ways we executed this 28-day adventure on a pretty ridiculously strict budget. Airfare, ground transportation, food, lodging, insurance, spare enjoyment money & all-in costs less than 6k per person. The most expensive part of visiting Africa is undoubtably the guided Safari tours/packages & lodging accommodations. If you do your research, plan ahead, take some advice from me & have a touch of willingness to rough it a bit, you can shave a ton off your travel bill. I'm by no means rich or wealthy, I planned, budgeted & saved for this trip & it was the overall best travel experience of my life. I truly think this is a place everyone should experience once in their lifetime. 
Now, let's explore some Namibia Desert. We stayed 2 nights at a camp near Sesriem,  just outside the gates of the Namib-Naukluft National Park, which is where the famous white clay pan of Sossusvlei/Deadvlei is located. There's not much of a "town" presence, just a few campgrounds, lodges & a solitary gas station. We camped in our roof top tent equipped 4×4 truck the majority of our excursion, with a few mixed in lodge stays to freshen up & resupply. This played a huge role in keeping our trip cost effective, but money aside, I wouldn't have changed it. Camping over hotels, all day long. Plus it really added to the adventure. We got into camp around 8pm the first night, just in time to watch the insanely beautiful sunset over the mars like terrain. We setup camp & enjoyed a starlit dinner. Speaking of stars, Africa is worlds darkest continent with the least light pollution. The southern hemisphere also points more towards the galactic center of the Milky Way. In short, these are some of the most incredible star-filled skies you will ever see. 
Up bright and early, we entered the National Park as it opened. It's about an hour drive into the park to get to the trailhead for Deadvlei & Big Daddy Dune, both of which were on our agenda for the day. The paved road will end & sandy road will appear. Here you will likely be approached by tour companies, telling you if you go any further you will get stuck. If you have a 4X4 vehicle & somewhat savvy of an offroad driver, you will be fine. No need to buy into their scare tactics to take their tour vehicles. It's a couple of mile drive to get to the trailhead. On the way, keep an eye out for wildlife. Surprisingly there is decent amount of animal living in these dry, desolate dunes. Once you get there, you have 2 options: (1) the short hike to the famous dry marsh of Deadvlei (2) Hiking to the top of Big Daddy Dune. You can also hike the dune and then descend down into the valley of Deadvlei from the back side. We did both in that order, but just a warning, the hike doesn't seem too difficult but it's more strenuous than it looks. It's a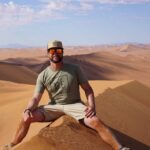 relatively short distance, but the elevation gain coupled with the knee-high soft sands will kick your booty a bit. What's that saying? "The best views come after the hardest climbs", well that couldn't be truer here. 
Once you reach the summit of the dune, the 360-degree view is absolutely incredible. A sea of red, mars like landscape as far as the eye can see. The curves, the colors and the contrast of the red where it meets the bright blue sky were just so beautiful. I was the first in our group to make it to the summit and luckily the group hiking ahead of us had already started making their way down, so I had the summit to myself. I straddled the razorback with a leg on each side & plopped down to rest and take in the moment. I felt small, humbled, blessed & accomplished. I could have sat up there all day, but we had a lot more of Africa to explore. So way down we go. Our decent was filled with laughs, giggles and copious amounts of youthful emotions. We decided to run down the steepest side of the dune at full sprint. After some fun videos and countless amounts of falls and trips, we finally made it down to the valley floor. We took a few minutes to empty our pockets, shoes & a few places I won't disclose from sand. Now we were on the bright-white cracked clay of the iconic Deadvlei marsh. A place so dry, that the old, sun scorched trees are naturally preserved. The trees have been dead for over 900 years but refuse to decompose because of the dry climate. This place, at one time, used to be a lush marshy oasis. 
It's a paradise for photographers because of the dark, burnt trees, the bleached-white pans, burnt-orange dunes and the vivid blue skies. As simple as this place might seem, it has an incredible vibe and ambiance. Even under the hot desert sun, we spent a good amount of time here exploring the area & snapping some photos. Totally worth it. It was now early afternoon and we were ready to get back to camp, cook up some grub and relax the afternoon away. It was treat and really great experience exploring the oldest desert on the planet. I will forever remember this place and hold it high on my list of favorite places I've visited. I truly hope someday you can add it to yours as well. As I end all my posts, a gentle reminder to practice Leave No Trace Principals wherever you Explore Further & strive to leave these places better than you found them. Something we do everywhere we go & we hope that inspires others to do the same.