Leave No Trace
Enjoy the Outdoors Responsibly.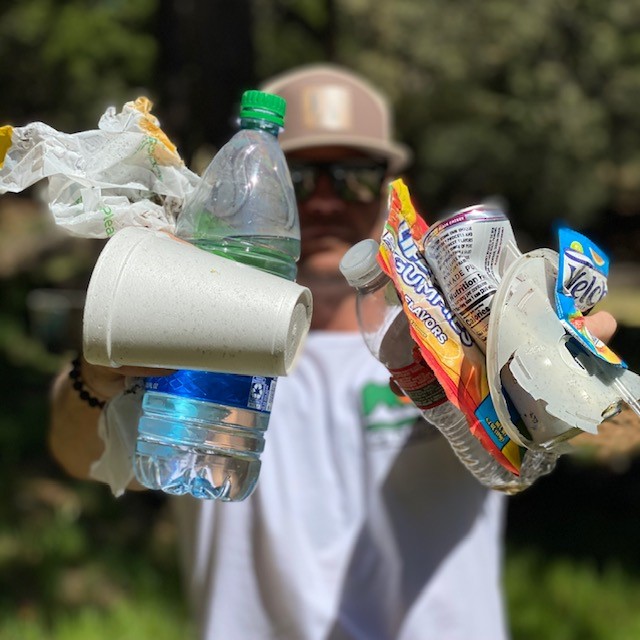 The Mission
The Leave No Trace Center for Outdoor Ethics protects the outdoors by teaching and inspiring people to enjoy it responsibly. The organization accomplishes its mission by providing innovative education, skills and research to help people care for the outdoors. By working with the public and those managing public lands, the Leave No Trace Center for Outdoor Ethics focuses on educating people—instead of costly restoration programs or access restrictions—as the most effective and least resource-intensive solution to land protection.
Problems We Solve
While we enjoy the natural world, Leave No Trace teaches us how to minimize our impacts. As part of that work, the organization is taking on these and other challenges.
Trashed Natural Areas
A cumulative impact from every discarded wrapper can devastate a natural area—removing trash is a simple but important and effective act of stewardship.
Polluted Water
Water is precious to all life. Simple, easy-to-follow advice helps ensure that rivers, lakes and oceans receive high levels of protection.
Misinformation in the Outdoors
Simply checking the forecast can save your life. From camping skills to safety measures, there is no such thing as too much information for an enjoyable outdoor adventure.
Wildlife at Risk
Wildlife should be just that—wild. Providing access to human food, or even just approaching too closely, is more harmful than most people imagine.
Damaged Trails
Trail erosion can permanently alter the landscape and is preventable when people adopt Leave No Trace principles.
Destructive Fires
Careless actions, such as leaving campfires unattended or casually discarding cigarettes, are among the most common causes of destructive wildfires, leading to billion-dollar losses and the death of people and wildlife.
Connecting Youth to Nature
Kids are spending less time outside than ever before. Leave No Trace works every day to help develop our future champions for nature.
Crowded Parks
Overcrowding can cause disruption to wildlife, harm to the natural landscape and even lead to social conflicts.
The 7 Principles
The Seven Principles of Leave No Trace provide an easily understood framework of minimum impact practices for anyone visiting the outdoors. Although Leave No Trace has its roots in backcountry settings, the Principles have been adapted so that they can be applied anywhere — from remote wilderness areas, to local parks and even in your own backyard. They also apply to almost every recreational activity. Each Principle covers a specific topic and provides detailed information for minimizing impacts.
The Seven Principles are well established and widely known, but they are not static. The Leave No Trace Center for Outdoor Ethics continually examines, evaluates and reshapes the Principles. The Center's Education Department conducts research — including publishing scholarly articles in independent journals — to ensure that the Principles are up to date with the latest insights from biologists, land managers and other leaders in outdoor education.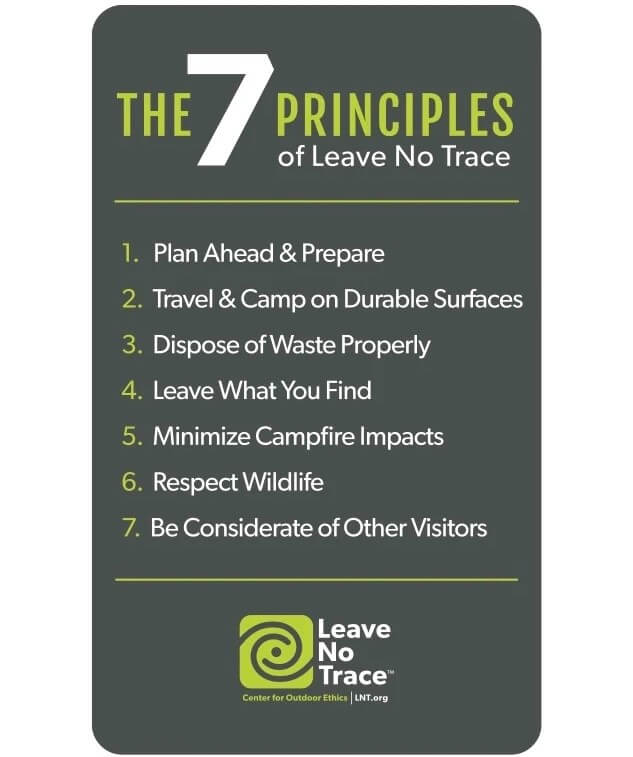 There's no substitute for nature.
From neighborhood walks to backcountry treks, we're drawn to it. It sustains us. Connects us. Inspires us. There is a place for everyone in the outdoors.
But it all has an impact.
More use, over use, trash, endangered wildlife. And around it all: climate change. The nature we love is at risk.
It's time to reimagine how we #outdoors.
Where getting out is about more than views. And taking actions that protect the nature we can't live without happens everywhere, every time.
We're Leave No Trace. We empower people to be the solution to conservation.
We pioneer science and insights, build sustaining partnerships and activate our proven learning system. Because it takes more than checklists to protect our lands. It takes all of us.
When you Leave No Trace, you show you care.
And that makes the difference. Because when we all do our part, we keep forests healthy, protect our parks, keep wildlife strong and ensure everyone is welcomed to enjoy these remarkable places together.
No matter where or why you get outside, it's yours to protect.
It's Your Nature.
Copyright
The Leave No Trace Center for Outdoor Ethics. To reprint the Leave No Trace Seven Principles, include copyright language and please do not alter them without review from the Leave No Trace Center for Outdoor Ethics.