Exploring the Bahamas
An island paradise or Paradise Island?
The lost island city of Atlantis. One of the many things I like about visiting the Bahamas, it's relatively accessible from anywhere in the US, without double digit hours of flight time. A tropical Island paradise an hour + flight from Florida, with beautiful crystal clear, turquoise waters, white sandy beaches & the warm warmth of the islands sunny vibe. I've traveled here several times and each time I learned something new and experienced a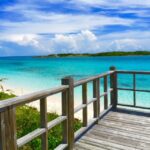 different side of the islands. In this write-up I will share my experience & adventures in the Bahamas. Some moments I enjoyed and I think would add value to any future trip you might take to the Bahamas. Of the times I visited, I really liked staying at the Atlantis Resort the best, so I will spend the majority of this outlining things to see & do while staying there. In my humble opinion, Atlantis just has the most going on for any type of vacation. Want private, secluded, romantic? The Cove tower provides that. Want excitement, gambling or a social vibe? The Royal Towers provide that. Want family time? The Beach Tower provides that. Whatever you are searching for in the Bahamas, you will find it at Atlantis. 
Once you touchdown on your tropical island paradise, it's about a 30-minute drive from the airport to Atlantis. First tip of the trip: Stop on your way and pick up any adult beverages, snacks, drinks. Don't skimp here, pick up enough for your entire trip. Not trying to take money out of the pockets of the resort (okay I am), but EVERYTHING there is super expensive. You will save hundreds of dollars by doing this, you can thank me later. Once you arrive, you will notice the resort is massive. It's designed to make you feel like you've just arrived in a long lost, ancient, tropical city. Personally, I think they did a pretty great job of this, the ambiance and architecture are on point. Keep in mind the resort isn't new, it's aging & might not be as pristine as it once was, but it made feel a bit like I was in an Indiana Jones movie. 
There is A LOT to do on the resort and it's real possible you might just stay on site your entire visit. There really isn't much need to leave the resort or "Paradise Island". The resort is home to 5 miles of private white sand beaches, pristine coastline that feels like you're walking on powdered sugar. The beaches are absolutely gorgeous & breathtaking, like something from a Snoop Dogg Corona commercial. One of my favorite memories to this day is taking late night dips in the ocean coves under the moon. The calm sound of the sea, warm waters and the starry night sky, Nothing better. 
There are more than 20 swimming areas and 14 different pools to enjoy. They have a 141-acre adventure waterpark, my favorite being the "Leap of Faith" waterslide, the lazy river is a close second. We spent multiple days just splashing & having fun with the water attractions. 
A few other notable & fun resort activities (1) The underground aquarium. When you walk into the resort you will be greeted by a HUGE panoramic aquarium, hosting a variety of marine life, including giant manta rays. (2) The Dolphin Cay is a lagoon where you can interact with dolphins, doing a shallow or deep interaction. The shallow interaction is waist deep and an up-close introduction to the dolphins. The deep interaction allows you to interact & swim freely with the dolphins in the lagoon. (3) The casino! For anyone looking to throw some cards around or try their luck at the slots, the resorts casino is one of the fanciest in the Bahamas. Based on our "not so good" luck, on our first trip, we might have helped contribute a bit to the fanciness. (4) The Restaurants, there is no shortage of great food & tons of options. 20+ Restaurants, bars & lounges. 
Although we did spend a fair amount of time relaxing at the resort, it wouldn't be a trip for us if we didn't spend some time exploring, it's part of our Nature. A few of our favorite off-site adventures (in no particular order). First was a powerboat adventure that takes you out to some of the 300+ Exuma Cays, small uninhabited islands off the coast of Nassau. Now, if you think the ocean water is magical at the resort, just wait until you experience the waters out here, unbelievably clear & colorful. The boat ride is about 1.5 hours to get out to the Cays & basically an all-day adventure. The first island you stop at you will be greeted by wild iguanas who have claimed the entire island as their own, they are everywhere & they will love you when you give them some grapes (supplied by the boat). On another island, you will come across an odd, not so native island animal, pigs. And they love to swim. It is not exactly known how the pigs ended up on this island, but some believe they were unloaded by merchant sailors back in the day and just left behind. Another theory is that they swam to shore while escaping a shipwreck. However they arrived, they call this island home and they sure are fun to swim with. Great little swimmers I might add. 
The last island, which is where you will spend most of the day, is an absolute gem. There is a small bar/restaurant & a dock for the boat to moor, that's about it. No one lives on the island and it's a little slice of paradise. I couldn't help but feel a bit like Tom Hanks on Castaway while I was here. Very remote, secluded & just beautiful. The whole island to yourself. Part of the boat adventure includes lunch, which is BBQ'd up for you right on the beach. The guides will show you how to feed the wild stingrays, which literally float over your legs & eat out of your hands as you sit in the shallow waters. There is also a decent shark population around the island & you will have a chance to watch them feed in the shallow waters. You will also have the option to swim with them, if you dare. If you do make it out to the Bahamas, I would highly recommend this little adventure, definitely one to check off the bucket list. 
Another off-island activity is fishing. Inshore or offshore are your two options. You will want to check with the locals on which option is best for what you are looking for. These charters range in boat size and time out on the water. From a couple of hours to all day (or longer). Some of the local fish include: (inshore) Yellowtail, Redfish, Snapper, Grouper (offshore) Amberjack, Mako, Blackfin, Yellowfin, Wahoo, Marlin, Cobia, Dorado
The last off island activity worth mentioning is scuba diving. If you are scuba certified I would say this is an absolute MUST while you are out here. I got certified right before my first trip, specifically for this trip. The best place to host your scuba experience, Stuart Cove's. A world-famous dive location & a unique opportunity to dive with Reef Sharks or Tiger Sharks. We did a total of 13 dives while we were out here, with a plan of doing 6. We got so hooked on this beautiful underwater realm, we had to dedicate more time to being under the sea, it was just too epic. We dove multiple wreck sites and explored several eerie sunken ships. I loved being able to scuba in just board shorts and my BC, it was warm, comfortable & the visibility nothing short of incredible. We did every variation of the shark dives they offered. I must admit, I was a bit nervous & sketched out at first, but once you are face to face with these amazingly majestic animals, something changes. This huge wave of calmness, appreciation and awe kicks in, everything slows way down & a sense of amazement settles over you. I had to keep my ear-to-ear smile in check as sea water was seeping in through my regulator. It was the closest to shark week I had ever been & I enjoyed every minute. Some will argue that there is a negative impact of diving with sharks, some could argue there is a negative impact with anything. I can't speak for the sharks, but I know this experience inspired me and only increased my passion for protecting these amazing animals & all others that reside in our beautiful oceans (& beyond).
I hope you found this information helpful and can add some value to your next adventure & while exploring the beauty of the Bahamas!